Kids Magician Corporate Events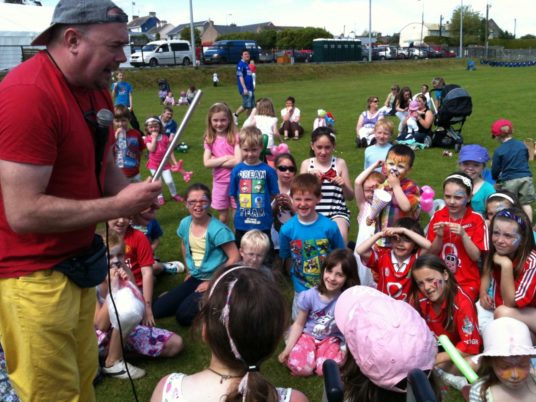 Our kids magician corporate events are great for any event in your companies facilities or event venue, your shopping centre, festival or local hall. We will entertain crowds from 1 to 10,000 from ages 1 to 100. Make the children's part of your event  more memorable with magicians. We cater for any type of event that you and associates wish to hold.
Reduce your corporate events cost by stripping out or limiting the decorations, balloons on the tables, fancy covers on the table and chairs, the audio visuals, fancy lighting, backdrops, fancy stage, the fireworks and the flash – you do not need most of this expense these days. All you really is a really grand fun family magician that can entertain!
Planning a event for for your staff, clients or local children and are Googling prices and availability for magicians, clowns, puppet shows, kids entertainers, DJ's, balloon modellers, sound equipment etc?
We are ready for your company's big day – someone will have to entertain the children while the adults are off enjoying themselves. It can be a fun day, family day, Christmas party, Halloween party or you may be sponsoring a festival of some kind. It doesn't matter what the occasion is or how big or small it is – we will help you make it a success.
One Man Show
How about a One Man Show, where the one experienced and fun entertainer will do the lot!
We have a number of family magicians that are amongst the best in the country – are loved by the children (and parents), are mega skilled and can deliver ALL of the following excellent and fun filled shows:
Other skills include:
Crazy Games with spot prizes
Event MC
Balloon Modelling
Paint on temporary Tattoos
AND we bring our own full PA, wireless mikes, music and lights
Paul's Party Video
One Man Show Kids Magician Corporate Events Costs and Duration
Item
Package Description
Duration
Price
Estm
Savings
OMS1
Bundle 1 is for ONE show identified above – Games and Balloon Models included
1.5 Hrs
€390
€200
OMS2
Bundle 2 is for TWO shows identified above – Games with spot prizes included
2 Hrs
€590
€350
OMS3
Bundle 2 is for THREE shows identified above – Games with spot prizes included
3 Hrs
€690
€500
All prices are subject to entertainer availability and VAT and the number of children in attendance.
Employing a separate magician, puppeteer, balloon modeller, event MC and sound hire company would cost around €1100 for a similar quality performance such as our own. What about all that hassle and grief of sourcing and dealing with up to four separate individuals to get them all there at the right time on the day!
Please contact us if you have any questions or would like to make a booking.
See our Facebook page for more pictures and testimonials.
Niall's Party Video
---
Check Out Our Other Websites
Really Grand Events for so many more other services and party fun such as puppet shows, circus skills, princess parties, Elsa parties, kids bingo and more….
Mad Professor where you can learn science through fun…
Mad Maths Man where you can learn maths through fun…