Magic Show Party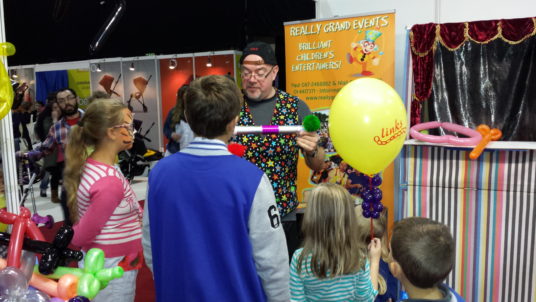 Our magic show party package is just what you need and ours will always be a big hit for any personal or corporate events. We have nearly 30 years of wonderful experience entertaining at all types of children's parties all over the IRELAND. The right mix of magic, entertainment and fun that will delight and amaze your children.
See videos of two of our magicians (Paul and Noddy) in action – further down the page!
We will occupy all those children who will be in your house for your child's party. You can throw away your worries and total panic about how you will keep them occupied and distracted. We will distract, occupy and entertain them and you can enjoy your glass of wine or lemonade!
---
Here are some of our magic routines and tricks, some are for the younger ones and some for the older.
Loads of different breakable, coloured, rising, disappearing, reappearing magic wands of all sizes
Colouring book involving multiple tricks
Disappearing Coke and other bottles
Disappearing water
Girlfriend (a Barbie type doll) cut in half and magic'ed back together by the children
Princess magic
Rocky the Racoon
Ben the Puppy in a Basket, Chico the Monkey and other puppet magic
Pins through balloons and balloon popping magic
Dice box
Red Crayon's magic trick
Story telling magic – like Catty McCatface
Mind bending magic
Money bucket magic
Star box
Lie detection
………..and loads more. Please note that not all tricks will be available for all parties – unless you require a two hour show : )
Paul's Magic Show Party Video
Our Kids Magic Plus package Includes:
Magic Show
Crazy games with spot prizes
Mini Disco
Gags
Balloon models and/or face painting or paint on temporary stencil tattoos
Typical Running Order for our Magic Show Party
The following running order is typical of one our Magic Show Plus parties in your home or party venue – so please contact us for corporate enquiries. The party content and structure are totally flexible and can be altered to suit your requirements. The start and finish times are also flexible and are based on our 90 minute package.
1:45 pm : The little guests arrive
2.00 pm : The kids magician arrives all ready to go with the magic show and party games
3:00 pm (ish) : You can dish out the party meal and our kids magician will make balloon models or apply stencil tattoos or face paint with party music playing to a mini disco in the background. We bring our own music.
3:30 pm : (or later) Our entertainer will start heading off but we always stay until all children have received their balloons and/or are painted.
3:45 pm : Parents collect their children
4:00 pm : You take out your bottle of wine (or 7Up)
We also offer one hour parties that consist of a Magic Show only.
Check out our party plan which has evolved from from 20 year's experience covering 1000's of parties nationwide.
Costs and Duration
We have all our kids magician costs online, so have a look around and we hope that we have something that suits you. If not, please contact us with any questions or requests that you may have. We have always published our prices online since we worked out how to upload way back in 1996. And now we have the most comprehensive list of party packages that offer the best value, variety and children's entertainment in the country.
See our Facebook page for more pictures and testimonials.
Niall's Magic Show Party Video
---
Check Out Our Other Websites
Really Grand Events for so many more other services and party fun such as puppet shows, circus skills, princess parties, Elsa parties, kids bingo and more….
Mad Professor where you can learn science through fun…
Mad Maths Man where you can learn maths through fun…
And finally we have our kids magician Dublin information also.